Achieving 3.4km with default XRF antennas

(1 viewing) (1) Guest
Junior Boarder
Posts:22

Karma: 1
Achieving 3.4km with default XRF antennas
#60
5 years, 1 month ago
When I received my 4 XRF radio modules I did some initial testing, worked flawlessly from the very beginning and communicated through thick stone walls like they weren't there, so for fun I set out to see just how far their signal would travel in a line-of-sight scenario.
The transmitting setup at base was simply a 4x AA pack powering a 3.3v regulator for a Picaxe 18m2 and XRF on a standard sized breadboard.
And for the remote test rig I whipped up this using an old LCD video screen case, filling it with 4x AA's, 3.3v regulator, Picaxe 18m2, 20x2 serial LCD screen for displaying packets received/lost statistics, red/green LED for immediate feedback of receiving signal or not, and an XRF: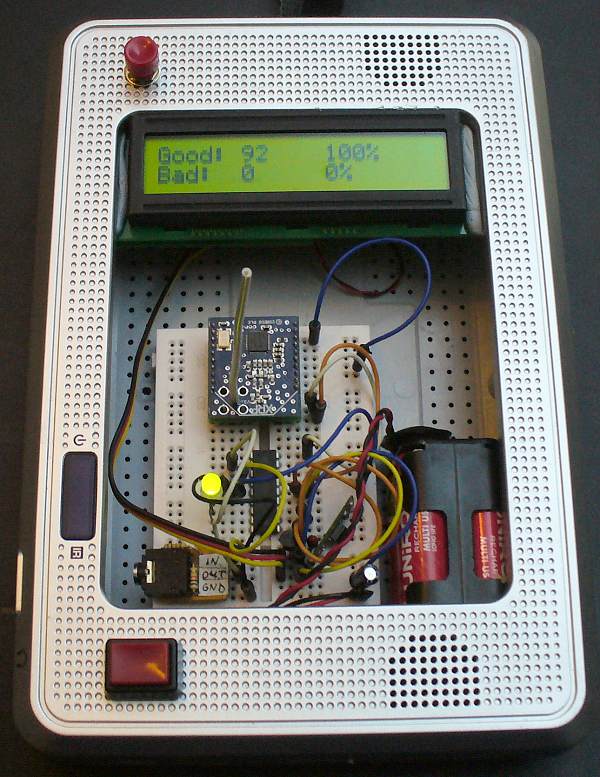 (bottom button=power, top button=LCD backlight for night tests)
The XRFs used in the long range tests had default 82mm whip antennas and all default settings, however I did drop the radio data rate down to 1.2k because it apparently increases radio sensitivity.
My initial long range test was going to a road on the hill opposite at just over 1,100 meters with a "nah it'll never reach this far" thought in the back of my mind, however it did reach!
Next night I tweaked the Picaxe coding to be more robust at monitoring the incoming packets then went to the top of the opposite hill, some 1,700+ meters (over a mile) line of sight from home: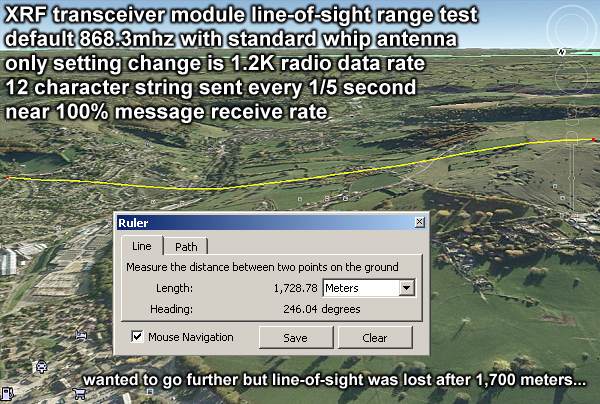 But I didn't stop there, using Google Earth and looking out of the attic window where the base unit was situated for the tests I figured out it may be possible to reach a further hill, the only change I made in the test setup for this was powering the base unit from a mains adaptor with a long lead, couple of nights later I went out and amazingly it worked, achieving over 3,400 meters (2.11 miles) with approx 10% message loss when the receiving rig was situated about 1 meter off the ground and the antenna aligned just right: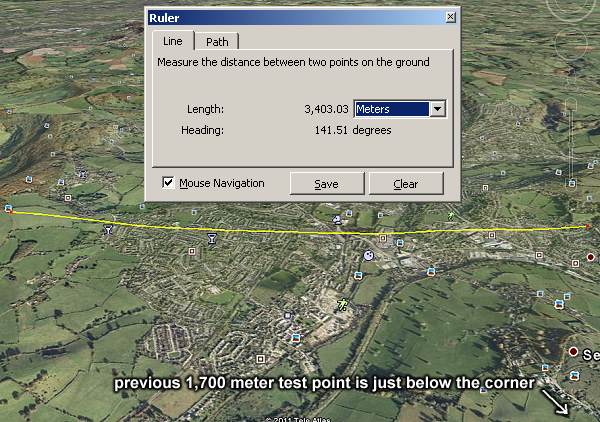 Miles thought that the ground plane of the transmitting unit had been extended through the power rails of the breadboard (and the long wire from the mains adaptor) and this was aiding the incredible distance achieved, so I built a miniature transmitter test rig without the extended ground plane: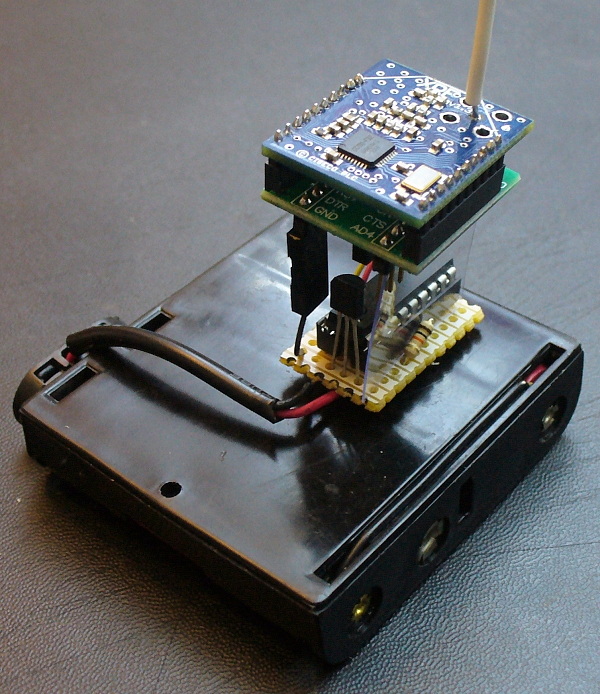 I then went back to the three previous test distances; at 3,400 meters I received nothing, at 1,700 & 1,100 meters the signal was still strong and clear.
It has been theorised that up to 20km distances can be reached with appropriate yagi antennas, however this set of tests I did in a fairly rural/countryside area proves that the standard whip antenna on the XRF is very capable.
Last Edit: 5 years, 1 month ago by Haku.
Fresh Boarder
Posts:1

Karma: 0
Re: Achieving 3.4km with default XRF antennas
#688
4 years, 5 months ago
Firstly thank you for your work! definitely helps a few people out!

I'm doing an identical test that you have done but over much greater distances using Yagi antennas. I wonder, would it be possible to get a copy of the sketches that you used for this test?

I can then also post about my results in the same way.

Many Thanks

Craig
Junior Boarder
Posts:22

Karma: 1
Re: Achieving 3.4km with default XRF antennas
#692
4 years, 5 months ago
The tests were done with Picaxes, you're welcome to the code but you'll have to do some translating to get it to run on other microcontrollers, it may be easier just to start from scratch with the knowledge of how the test code I wrote works.

Basically the transmitting microcontroller does:

do
send "qwertyuiopas" to the XRF module
wait 200ms
loop


"qwertyuiopas" was chosen because it's 12 characters, the default buffer size of the XRF, meaning no waiting before transmitting the data through the antenna.

The receiving microcontroller's code is like:

do
listen for "qwertyuiopas" from the XRF, with a 210ms serial timeout
if "qwertyuiopas" is received then the 'good data' counter is increased
if the serial timeout is triggered then 'bad data' counter is increased
loop


I found it was very important to get the code running robustly, timing wise, otherwise you end up with false results where the receiving end misses the data because it doesn't wait long enough.
Administrator
Posts:1024

Karma: 20
Re: Achieving 3.4km with default XRF antennas
#694
4 years, 5 months ago
Haku you are a star, been meaning to pop you an email. If I sent you a couple of freebie v1.5 XRF's would you consider testing in a silimar way, they are according to our RSSI figures on average 2dB better so should go even further.

In more radical range news, spoke to TI today they are looking to support one of our customers in a 37Km "almost to space" XRF link test. Fingers cossed they find a CC1190 EMK for us to use.
Junior Boarder
Posts:22

Karma: 1
Re: Achieving 3.4km with default XRF antennas
#698
4 years, 5 months ago
Yes I can certainly do the original distance tests with the new v1.5 modules. I'm curious to see if it's possible to reach the 3.4km (or at least see how much further than 1.7km it will go) without the extended ground plane which was accidentally discovered that allowed the 3.4km range on the original modules.
It'll also give me excuse to try and get the Picaxes to work with the data from ATNT3 & ATNT4 modes to see dB strength levels as I didn't get round to really looking at that when I was doing the original testing.

I've occasionaly had a look at the number of XRF units sold on your eBay listings and the numbers have looked pretty good, did the range test writeup I posted here help much?


I got an eZ430 Chronos watch last year from the tideals.com site when they were going for $25 inc post but annoyingly never managed to get as far as programming it as the software refused to install, I used it as a normal wristwatch for a while but found it reset itself too often to be useful, so it's boxed and shelved, waiting for the time when I want to tackle it again.
Administrator
Posts:1024

Karma: 20
Re: Achieving 3.4km with default XRF antennas
#699
4 years, 5 months ago
That's top news, many thanks.
There's a new RSSI mode, it's like the XBee, puts out PWM on pin 6, there's ATLI to control what the pin does. Relativly simple to read it with an ADC.
Thankfully the shop has overtaken ebay (ebay charge too much), I guess beccause the postage is often cheaper and the larger range of stuff. Your favorite preloaded PIC people will soon be stocking the ERF & URF. Lets see how much more stan will bleat on about those Hope modules
We have a chronos too, keep meeting people that have them too, that say they want to get it working with an XRF, seems none of us are quite motivated enough, hehehehe. I hope the gateway will be a good enough reason for someone to.
The URF is quite similar to the Chronos USB thingy
Junior Boarder
Posts:22

Karma: 1
Re: Achieving 3.4km with default XRF antennas
#701
4 years, 5 months ago
Can I be cheeky and get some of that wire you use for the antennas? I've got reels of multistrand wire but no solid core wire for replacement antennas and I'd also like to do some range testing with helical antennas. Nice to see the chip antennas on the ERF and URF modules as the whip antenna gets a bit tricky to deal with, I keep knocking them which weakens them at the solder point.
I can pretty much duplicate the tests as I still have the original hardware, though the display is now a 20x4 which will allow for more feedback.
The Chronos, what motivation do you need to get some example code to talk to a serial passthrough [X/E/U]RF module?
Good to hear about the ERF & URF modules being sold by my favourite preloaded PIC people, they almost make wireless comms too easy